Ending Cervical Cancer, TogetHER  
Written by Tom Harmon

TogetHER for Health 
If you've engaged with the Conquering Cancer campaign, you have a deeper understanding of the threat cervical cancer represents to millions of women across the world – especially those living where women's health resources are deeply lacking. This preventable disease needlessly ends the lives of hundreds of thousands of women every year. 
We find ourselves at a critical inflection point. Less than a year ago, the World Health Organization launched its Global Strategy to Accelerate the Elimination of Cervical Cancer, the first-ever plan to permanently end a cancer. 
But plans don't save lives: action does. Without sufficient political and financial resources, commitments to end cervical cancer are untenable. And that's why TogetHER for Health was founded. 
TogetHER for Health is expanding awareness, fostering political action, and scaling up what works while identifying new strategies that can fast-track progress to end cervical cancer. We're here to ensure these commitments are realized. It's in our name: we work TogetHER with partners around the globe because we cannot do this alone.
Header image caption: Jagwati, a community health worker in Northern India, speaks to a group of women in her village about the importance of cervical cancer prevention. (Credit: TogetHER for Health)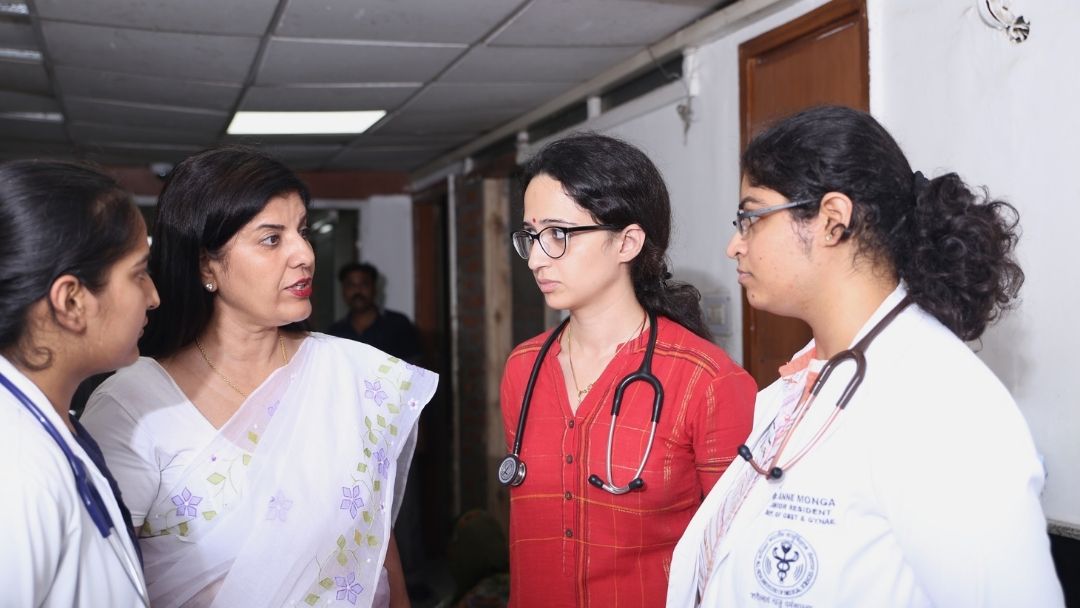 Dr. Neerja Bhatla consults with fellow physicians at the All India Institute of Medical Sciences where she serves as Head of the Department of Obstetrics and Gynecology. Dr. Bhatla believes healthcare providers play a critical role in expanding access to cervical cancer prevention services. (Credit: TogetHER for Health)
TogetHER for Health harnesses the expertise and experience of our members and partners to drive action toward cervical cancer elimination. Our recent Impact Report articulates our approach of Scaling Up, Scaling Out, and Scaling Deep. Here's some examples of what that means:
Scaling Up: The Cervical Cancer Elimination Initiative. TogetHER is advocating on behalf of cervical cancer elimination efforts to leaders of the Biden administration and the United States Congress

for increased domestic and global funding

for research, awareness and services for HPV and cervical cancer elimination.

 
Scaling Out: Cervical Cancer Grants Program. Because screening coverage is still less than 20% in most under-developed nations, it is critical to identify the most efficient, scalable ways to ensure access to cervical cancer prevention technologies. TogetHER's

Cervical Cancer Grants Program

supports the transformation of innovative ideas into proven strategies to revolutionize cervical cancer prevention in the most challenging environments. Our next call for proposals will be announced in September 2021.

 
Scaling Deep: Cervical Health in Kenya and Eastern Africa. The

Kizazi Chetu campaign in Kenya

– organized by TogetHER in collaboration with Scope Impact and more than twenty Kenyan organizations – is engaging influential Kenyan leaders in fresh, exciting new ways to speak about cervical health, including the importance of early detection and timely treatment of cervical disease.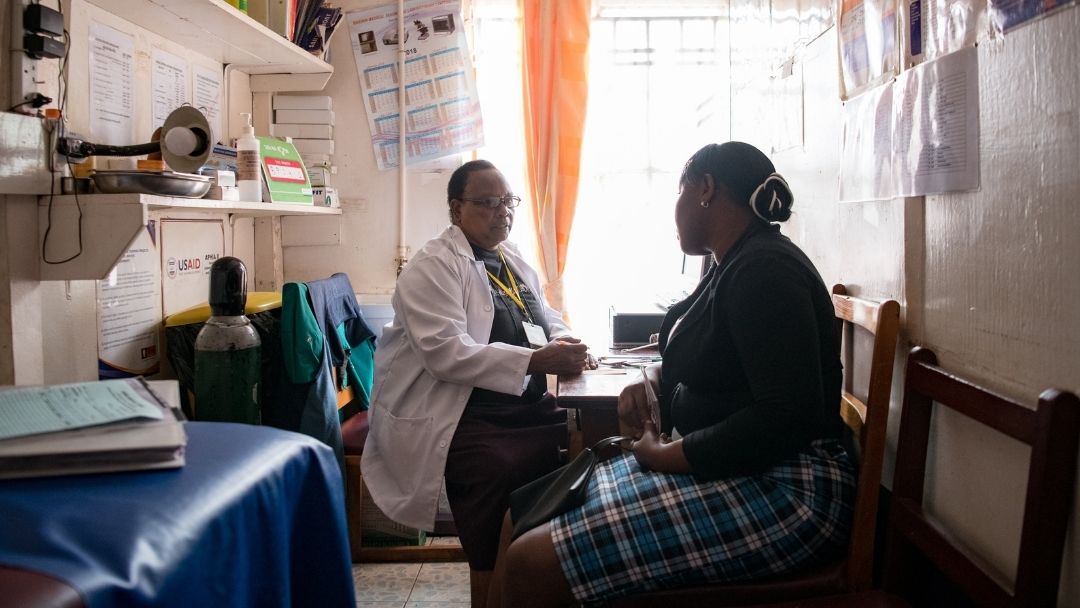 Medical practioner Hannah Wambui prepares to screen a patient for cervical cancer and/or pre-cancerous lesions at Gawa Medical Clinic. Thika, Kenya. (Credit: TogetHER for Health)
We're also providing resources to drive advocacy and policy efforts supporting cervical cancer elimination, including our annual estimates of funding for cervical cancer prevention, case studies documenting innovation in cervical cancer prevention, and briefs to assist cervical cancer prevention programs in accessing funding from the Global Fund to Fight AIDS, TB, and Malaria. 
We invite you to join our fight to save women's lives. TogetHER won't rest until the effort to end cervical cancer everywhere has the resources, innovative ideas, and strategic direction it needs.
For more details on our work or opportunities to partner, please contact TogetHER's Executive Director, Heather White at: heather@togetherforhealth.org. 
Do you think it's time we all took action towards worldwide cervical cancer elimination? Join the movement and sign up to the campaign today. We'd also love to hear your feedback on this story, so please post your comments to us below. You'll also find us on all the usual social channels. With widespread global coverage of the HPV vaccination and dedicated cervical screening programs, it will be possible to eliminate cervical cancer for future generations.
Follow Conquering Cancer on