Leading the Way to a
Cervical Cancer Free Future
Written by Marissa Arvelo Kubiak, BSN, RNC-MNN, IBCLC in collaboration with
The University of Texas MD Anderson Cancer Center
In 1961, President John F. Kennedy challenged Americans to land a man on the moon and return him safely to Earth before the end of the decade. The massive technological efforts behind this mission became known as a "moonshot project" — a culmination of innovation that achieves the previously unthinkable.
In 2018, the World Health Organization's (WHO) global call-to-action to eliminate cervical cancer emphasized prevention and treatment. This call-to-action is, though aspirational, unsurprising given that nearly 100% of cervical cancer deaths can be prevented through vaccination, screening, early detection and treatment of precancerous lesions and treatment of invasive cancer if detected early. 
Cervical cancer prevention programs in low and middle-income countries (LMICs) face many challenges, something which we, the program for reducing cervical cancer (PRCC) at MD Anderson Cancer Center in Texas, are working hard to address. We collaborate with partners in medically underserved areas of Texas, as well as in Latin America and Mozambique, with the primary goal of increasing provider capacity for delivering cervical cancer prevention services and for the management of cervical cancer.
Technology and innovation are vital for turning the unthinkable into a possibility and achieving a cervical cancer free future. 
While provider capacity building is vitally important for creating a robust, global cervical cancer prevention infrastructure, our team and partners are aiming to further accelerate this goal by collaborating with others to build and test innovative, low-cost tools that aid clinicians in providing quality care in under-resourced settings. As our team member and former NASA Astronaut Dr. Ellen Baker says"we have to dream big and start small."
Which means using low-cost technologies as a launchpad for reaching wider goals. Innovative technologies, while not necessarily novel, point to the importance of developing low-cost tools that can be utilized in LMIC's; ultimately, these tools may bridge gaps in access to care among medically underserved populations. 
In fact, the PRCC team is already using new technology to reduce disparities in cervical cancer care around the world.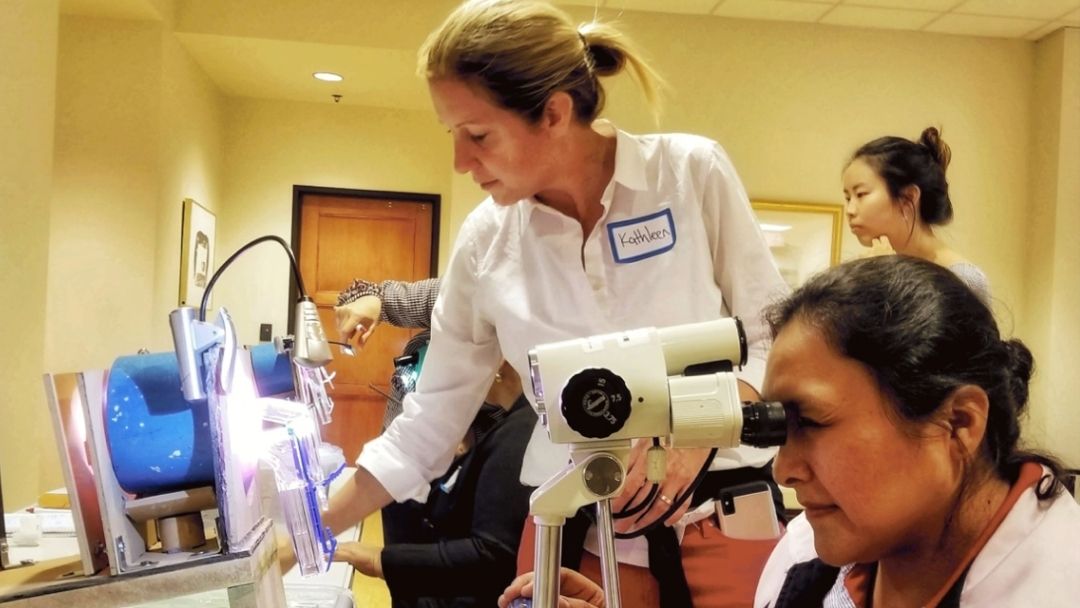 Dr. Kathleen Schmeler (above) pictured alongside a colposcopy trainee
In Mozambique, a country of almost 30 million people, there is currently less than 1 physician per every 10,000 people in comparison with the U.S., where there are about 26 physicians per 10,000 people. 
To support efforts to eliminate cervical cancer in Mozambique, the number of providers available to provide screening and treatment services would need to greatly increase in the short term. This is impossible to do quickly. In recognizing this challenge, we implemented several programs, in partnership with Brazilian and Mozambican colleagues, to increase local capacity to effectively deliver these services.
Six years ago, we launched Project ECHO® (Extension for Community Healthcare Outcomes), a telementoring model connecting specialists in cervical cancer prevention with providers in Brazil, the US and Mozambique. This model allows for regular communication and a virtual training and continuing education platform.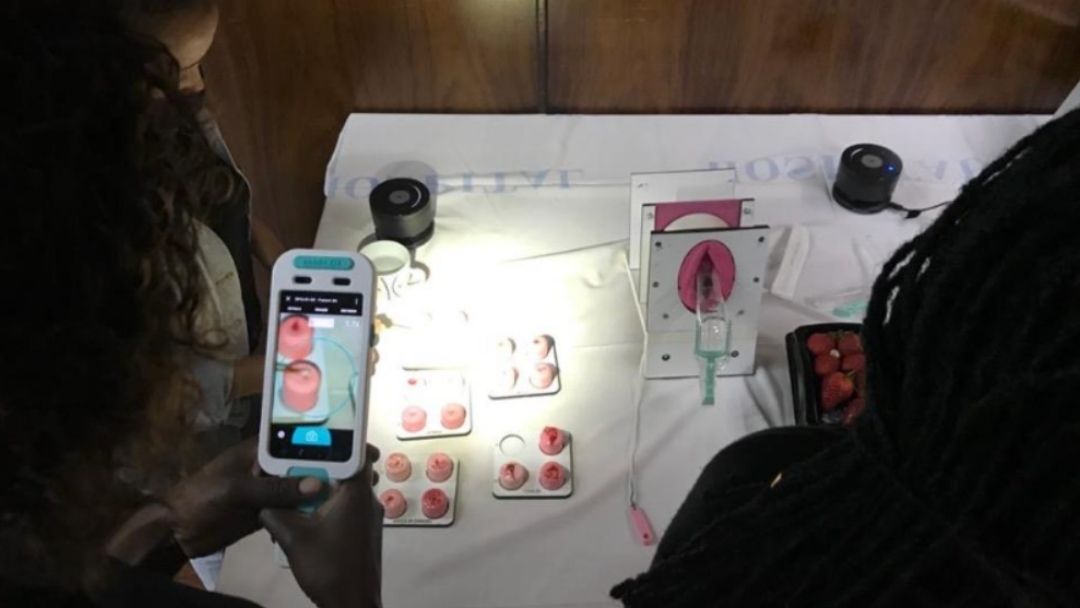 Telementoring Training Session 
We also use the Project ECHO telementoring model to support other partners worldwide. The goal of these virtual meetings is to promote knowledge transfer between specialists and partners in LMICs. We lead regular video conferences with community providers in medically underserved areas of Texas, Latin America, Cameroon, Mozambique and other countries in Africa. Partners present cases and receive guidance on treatment plans from the MD Anderson team and colleagues.
The Project ECHO community is a true extension of the PRCC's approach to international outreach at MD Anderson. These conferences enable us to develop relationships with physicians and nurses all over the world and have become an integral part of our cervical prevention strategy. Over the last six years, for these four different programs, more than 452 participants have attended ECHO conferences where more than 300 patient cases have been presented and discussed. Project ECHO conferences complement the robust, provider training program for cervical cancer prevention.
During hands-on sessions we noted the need for high fidelity, low-cost training models to assist in teaching skill-based procedures such as colposcopy, cervical biopsy and loop electrosurgical excision (LEEP). Medical simulation models that are used for provider training worldwide can be cost prohibitive (upwards of $2,000). To address this, we partnered with our close neighbor, the Rice 360˚ Institute for Global Health at Rice University, to develop high quality, affordable training tools.
Rice 360˚, led by the McArthur Fellowship "Genius Grant" winner Dr. Rebecca Richards Kortum, brings together an international group of faculty, students, clinicians, and partners to design innovative, low-cost health technologies.
In collaboration with the PRCC, Rice 360˚ created a Low cost, Universal, Cervical Cancer Instruction Apparatus (LUCIA), which has been used by our team to train more than 300 medical providers in cervical cancer prevention and care in 19 locations across seven different countries.
Made of 3D-printed material, wood, PVC pipe, water-resistant fabric and foam, as well as easy-to-source hardware, the final product is a low-cost, durable, comprehensive training tool for teaching colposcopy, cervical biopsy and LEEP. Production of LUCIA is being scaled up for broader distribution, and manufacturing of the tool. 50 LUCIA training sets have already been made in Malawi and are being pilot tested by our global partners now.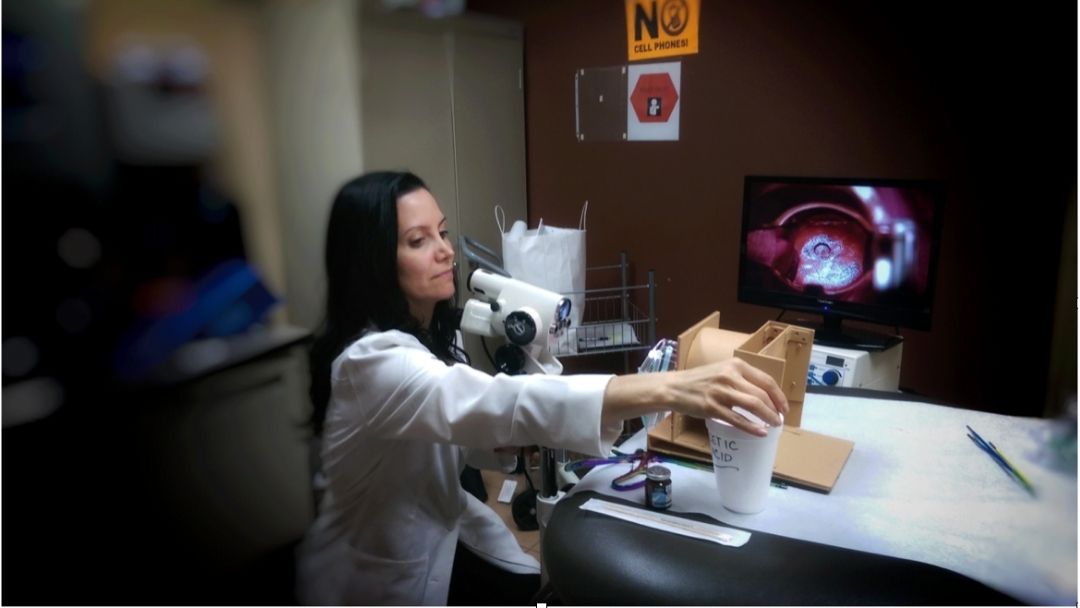 Dr. Mila Pontremoli Salcedo, performing a colposcopy training session using the LUCIA device
Pathology services and Pap testing are limited in LMICs and our partners at Rice University have developed an alternative to biopsy/pathology for the diagnosis of precancerous lesions.
The technology, called High Resolution Micro Endoscopy (HRME) provides a low-cost, accurate method for cervical precancer diagnosis without the need for a biopsy and pathology. HRME technology can eliminate the potential need for multi-step cervical cancer screening processes by delivering real-time diagnosis of cervical pre-cancerous lesions, allowing for immediate treatment when possible. We are testing this technology in Houston, the Rio Grande Valley, Brazil, El Salvador and Mozambique. The PRCC team is passionate about reducing the burden of cervical cancer worldwide.
Thanks to our partners in Texas and around the world, Project ECHO and our dynamic partnership with the Rice University, we will keep working towards a cervical cancer free future by supporting increased capacity to provide screening and treatment services and through promoting the implementation of usable, scalable technologies.
We hope you join us in supporting this effort to achieve the WHO's aim of eliminating cervical cancer worldwide.
Do you think it's time we all took action towards worldwide cervical cancer elimination? Join the movement and sign up to the campaign today. We'd also love to hear your feedback on this story, so please post your comments to us below. You'll also find us on all the usual social channels. With widespread global coverage of the HPV vaccination and dedicated cervical screening programs, it will be possible to eliminate cervical cancer for future generations.
Follow Conquering Cancer on 
Twitter | Facebook | LinkedIn | Instagram